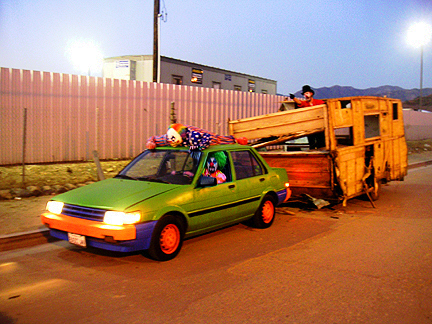 SNEAKY THE CLOWN SAT DOWN WITH HIS BADCLOWN DEGENERATES AND DISCUSSED THE NEED FOR AN UNOFFICIAL MODE OF TRANSPORTATION WHEN CLOWNIVANTING

AROUND TOWN. SEARCHING HIGH AND LOW FOR JUST THE RIGHT CAR (MEANING WHAT WAS ALMOST FREE) THE CLOWNS CAME UP WITH A 1980'S MODEL TOYOTA COROLLA FROM THE LOCAL CLOWN YARD. THEN ADD VARIOUS FLAMBOYANT PAINT, SOME MUCH CONTESTED (MAINLY SNEAKY) MANUAL LABOR, AND ONE BADCLOWN ON THE ROOF (CHADWICK), AND THE CLOWN CAR WAS READY FOR THE STREETS. GRANTED THE BADCLOWN VEHICLE WILL ALWAYS BE A WORK IN PROGRESS AND IS CURRENTLY IN STORAGE DUE TO BAD PERSONAL HYGIENE, SNEAKY STILL WANTS TO FIND A SPOT FOR HIS REFRIGERATED BAR, AND SOMEPLACE TO STORE ALL THE STOLEN, USED GIRL'S PANTIES!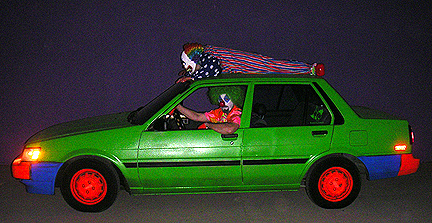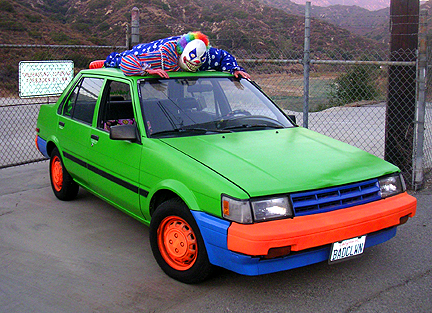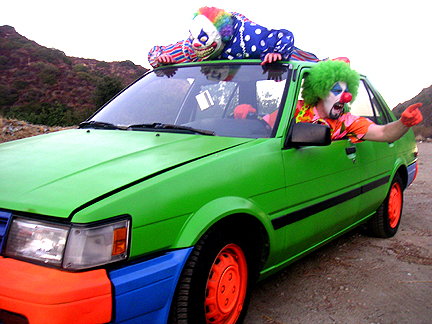 ONWARD...IT'S TIME FOR A BADCLOWN ROADTRIP!

LET'S GET THIS PILE ON THE ROAD!

CHADWICK GETTING READY FOR THE WINDBLOWN LOOK!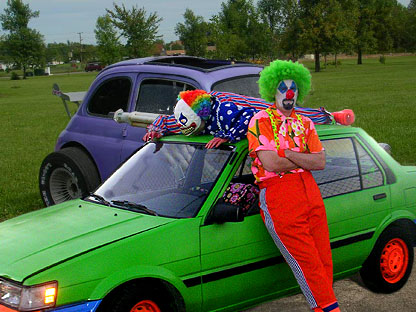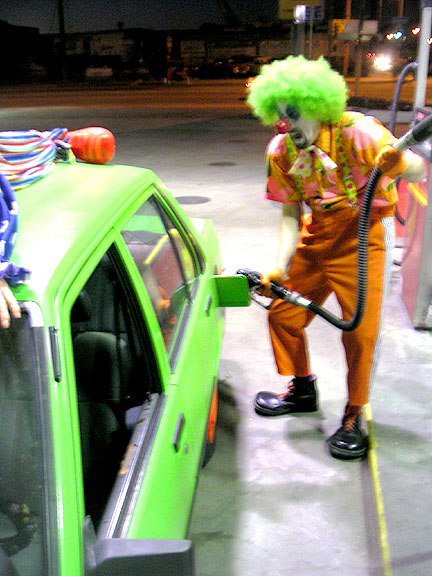 HANGING WITH OTHER BRIGHT-COLORED SPECIMENS!

THIS THING DRINKS MORE THAN ME!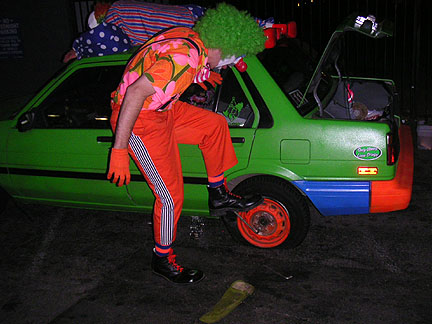 PHYSICAL LABOR? WHAT THE F---!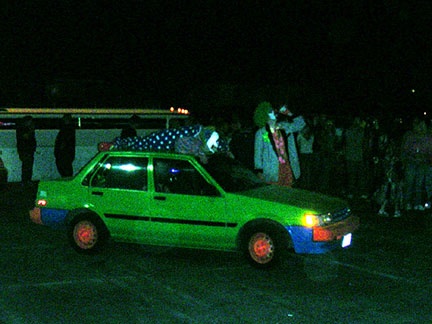 TIME TO FILL "MY" GAS TANK...YEAH!!!